On December 25, the 19th Annual Peking University Guanghua New Year Forum was held in Peking University Centennial Hall and the theme of this forum is "New Age, New Ideas ------40th Anniversary of Reform and Opening up, 120th Anniversary of Peking University". As the special guest, Gao Yunfeng, the chairman of Han's Laser, attended the forum and made a speech.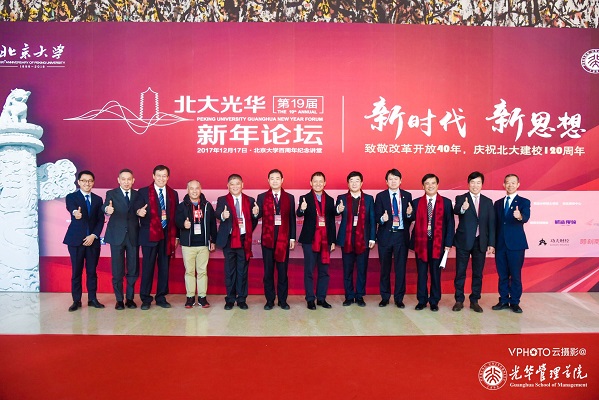 Gao Yunfeng said that now manufacturing industry takes fewer and fewer proportion in social wealth. A large number of capital has been withdrawn from manufacturing industry and the trend of industry hollowing-out is forming. However, demographic bonus, large quantities of consumers groups and huge financial capital support are still great advantages of China's manufacturing industry development.
As for the future of manufacturing industry, Gao Yunfeng said that with the transformation and upgrading, many strategic emerging industries will meet explosive growth. The industries like electric vehicles, power battery, mobile terminal like Apple, and robot, all have the huge business opportunities.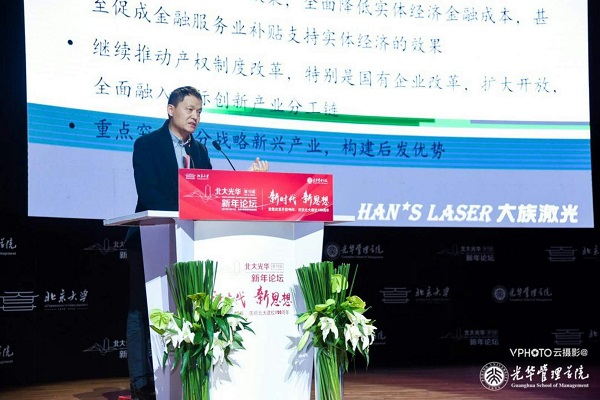 The following is the transcript of Gao Yunfeng's speech that I want to share with you:
I am from equipment manufacturing industry, today I will share some information about the current situation of equipment manufacturing industry.
From the analysis of manufacturing powers, I concludes a mode called Germany mode. The Germany mode has a feature that for hundred years its private property rights institution, including inheritance tax system, has greatly promoted a large quantity of family businesses. With the aim at building Century-old shop, the family business has realized the intergenerational accumulation of technology, craft, brand, culture, channel and all kinds of resources and become the hidden champions of nearly all subdivisions. Although we are now talking China's manufacturing industry going global, if we think carefully, we will find that the best powers in nearly all manufacturing industry are Germany, Japan and Italy that account for 80% of the market.
Then let's study the manufacturing industry mode of America which has its own features. With its leadership of globalization and the advantages in English-speaking countries, Dollar-system countries, immigrant countries, politics, economy, laws, military system and defining international standard, America, for the last 140 years, has been keeping its GDP first in the world and no power can match it. American manufacturing industry has two features: the first one is that it takes advantage of the globalization privilege to integrate resource around the world, thus constructing the advantages of industrialized manufacturing. The second is that it takes advantage of the main birthplace of intellectual property. We should admit that America is the main IP birthplace in modern world and it leads the wave of the new economy and new industry. The bomb warehouse of every new economy and new industry is mainly in American manufacturing.
Now let's see the manufacturing industry mode of South Korea. We all know that South Korea is in lack of resources and its land resource is very rare. But the most interesting thing is that South Korea supports 10 big enterprises to take part in international competition. The tiny area has little resources, so they must develop export-oriented economy. What does that mean? It means it earns money from foreign countries, export-oriented economy supports ten big enterprises which accounts for big half South Korean GDP. As for this, most people thinks it is negative, especially from one dimension. But from another dimension, it is the only thing this tiny area can do to develop its economy, because South Korea has no qualification for international competition. As a result, South Korea became a great power of economic development. The business strategies adopted by many well-known international enterprises of South Korea are worth referring and studying, reflecting the export-oriented economy is the cake to share world wealth. Then we think carefully, we will find Taiwan and Singapore have the similar features.
How does China develop its economy? Xi Jinping, the General Secretary, pointed out during his inspect in Jiang Su that China is so big that it must always give more importance to the real economy and the single development and the road from real economy to virtual economy is not the right way to be strong. In order to develop real economy, it must develop its manufacturing industry firstly and the especially important thing for now is to implement the innovation-driven policy, master and adopt key technologies. Xi's word has given the answer to this question.
However, we must see there is a long way for China's manufacturing industry to go. It is all known that China is a world factory, but if we look back to the history, we will find that the planned economy time gave the basis to manufacturing industry and the 40-year reforming and opening up witnessed its development. The system of part old state-owned enterprises, resource-dependent industries and monopolized industries has not gone through essential changes, which is very common in non-coastal area and the proportion of state-owned enterprises is very big. In coastal area, private economy, foreign enterprises and joint ventures are representatives and they achieved prosperous great development in part fields.
Besides, we found that in last 10 years, manufacturing industry has been greatly affected by the crowding-out effect of real estate, financial securities and Internet. What is crowding-out effect? It is that manufacturing industry takes fewer and fewer proportion in social wealth. A large number of capital has been withdrawn from manufacturing industry and the trend of industry hollowing-out is forming. Here we take Pearl River Delta as example, in his area, Hong Kong enterprises were majors, accounting for 50% of the total enterprises, but now 80% of the Hong Kong enterprises has left the area. This is not an exaggeration and you can go to Dongguan to verify this statements. Many enterprises have transformed their business, some have withdrawn the capital and there are many other situations. Industry hollowing-out is not just a saying, it's a fact. And the hollowing-out is very fast.
How is the manufacturing industry of China? According to the low standard, we are world factory, but according to the high standard, ours is an industry of environment pollution, resource consuming and less earning. The whole level is at the low end of international industry division chain.
What should China's manufacturing industry do? In fact, China's manufacturing industry still depends on our resources and demographic bonus, for a very long time, is still the basis of China's manufacturing industry prosperity. Firstly, large quantities of cheap and good-quality labor force, for a very long time, is still the cost advantage. Although the cost rises, our productivity improvement and better labor force quality in the world still make us have the cost advantage. Secondly, in recent years, it is clear that vast consumer groups support the market advantage of China's manufacturing industry. Take our company as example, we made a statistics on our industrial laser equipment and we found that in recent 3 years, 50% of the new purchasing orders are from China and China's consumer groups and consuming ability are our main drive. Thirdly, huge financial capital supports the scale advantage of China's manufacturing industry.
Here I want to give you an example to report what had we done. I was graduated from Beijing University of Aeronautics and Astronautics and then taught in Nanjing Aeronautical Institute for 6 years. When I planned to go to Shenzhen to start business, one customer gave me 400000 RMB. I used that fortune to rent a 100-square-meters in Shenzhen to build Han's Laser and our company went to public until 2004. I had nothing when I started business and the initial fund of 400000 RMB is customer's advance payment. But it is conditional and I must delivery qualified machine in 3 months. Then we faced three difficulties: 1. No market; 2. No technology; 3. No development fund.
After going through 20 years' development, we changed the pattern of world industrial laser market. In brief, we, Han's Laser, has got many firsts in the world and many indicators ranks first or second globally. This is excellent and we achieved that from scratch 20 years ago.
How did we make it? We think it is reverse technology innovation. What is reverse technology innovation? Here I just share one point. Although China Academy of Sciences has so many research institutions, the innovative result is not that good. Because our innovation system is still the planned research system and we have not reformed them thoroughly by far.
Everyone says that Shenzhen is suitable for high-tech enterprises. But what I want to say is the enterprises in Shenzhen is wild, so it can become high-tech city today. Shenzhen has its own ways to develop and Government also has done much for driving innovation like Thousands Talents Program, giving support and development money to enterprises, cultivating academician and doctoral advisor. We admit that these policies are made for good, but we have not notice the crowding-out effect. What does that mean? If you approve some talents, more talents will be crowded out. We must let these talents compete instead of selecting some based on diploma, so that we can achieve the prosperity. The talents can be cultivated, but the best must go through suffering from competition.
The development of China's manufacturing industry depends on the united power of 1400000000 Chinese people, because demographic bonus is our first competitiveness. Environmental construction is always the key way for government to implement innovative drive.
Now there are many pessimistic voices. What direction should we go? Is there noting we can do to develop? How to achieve that? In fact, there is so much we can do. With the transformation and upgrading, many strategic emerging industries are facing explosive growth like electric automobile and power battery industry. Here we take some benchmarking enterprises as example. When one enterprise's production this year is 5G watt hours, its orders will be 30G watt hours, which is situation in battery industry. The English government has made a decision that enterprises cannot sell oil-fueled automobiles in xxx year and only electric automobiles can be sold, which is a great development chance. Mobile terminal industry including Apple, Huawei, ZTE and MIUI, also has great business opportunities. Besides, panel display industry, robot industry, laser intelligent machine and advanced equipment manufacturing industry also develop fast.
Then let's see the laser industry. 20 years ago, our laser is a device converting electrical energy into light energy and the conversion efficiency is only 3%. The rest 97% energy are converted into thermal energy, so we must produce a complicated cooling system to bring away the thermal energy. Now our conversion efficiency has reached 35%. What does that mean? Megawatt laser has completely entered into terminal market, opening up infinite market space for us and bringing explosive market growth. The advanced equipment manufacturing industry, represented by our laser technology, is also the core of China's manufacturing industry. So the equipment manufacturing industry faces great upgrading and so many opportunities.
How can we promote self-innovation? The key point is to create policy dividend, reform financial and taxation system in a large scale, simplify real economy taxation system, and adopt duty-free system in strategic emerging industry of independent intelligent property right, whose effect is better than rewards and financial aid. Besides, formulate targeted financial policies, comprehensively reduce the financial costs of the real economy and even promote the effect of financial services subsidies in supporting the real economy. Moreover, continue to promote the reform of the property rights system, especially the reform of state-owned enterprises, expand the opening up and fully integrate into the international innovation industry division chain. What's more, make breakthroughs in some strategic emerging industries and build a late-development advantage.
In conclusion, China's manufacturing industry still has great hope, and I am very confident in the development of China's manufacturing industry. Thank you!
When answering the questions of guest, Gao Yunfeng said, "I want to give you an example. What is high technology? I think the immature technology is high technology. When we can reach the phase of relative mature, we obtain the comparative advantage and we all know comparative advantage achieves absolute result in the end. At that time, there were many stronger enterprises than us in our industry. How was our laser? It was worse. When expert inspected it, it was good, but when the expert turned away, the laser beam was gone. And you never knew when it would be gone, 5 minutes or several hours laser? You never knew. The reliability at that time was not suitable for industrial production, without knowing which, we, as private company, sold the machine to customers. Unsurprisingly, the machine broke down. The customer ordered us to repair it and promise it could be repaired. So I told my employee if you could not repair it, do not come back. Because if it was not repaired, the customer would ask for refund, and we had no money, so you must repair it. After repairing, they came back to have a meeting. In the meeting, we discussed the fault and solutions. We used the big data to make a statistics and we found that 85% of the faults are caused by technology and many of them are repetitive, we must modify it. The next day, some engineers did the repair outside and other engineers did the modification in company, which lasted 4 years, from 1996 to 1999. Later our laser marking machine could work around the clock continuously.
What had we done? We realized the reliability is more important than advancement. At that time, they though the laser was developed enough and our peers and research institutes had started to study next-generation laser technology. But we solved the problem of reliability, so we won. This is a typical reverse innovation, and our supreme command is sent by market need. Market need is our issue, because private company cannot have the state's project funding and the real incentive for us is the customer's need. Their need is order, if you can give what they want, they pay you money, and we survived in this situation. We decided research direction based on market lead, and this is reverse technology innovation.
Therefore, we, as well as many other enterprises in Shenzhen, followed this pattern to move forward step by step. With the expansion of our strength, it became systematic innovation. Now we have 12000 employees and 4000 of them are full-time R&D staff. After talking with someone from Great Wall Institute of Chinese Academy of Sciences, I am more confident. Because our R&D staff and investment capital are several times than theirs, so does our R&D ability.
Today we will stop here. Criticism and correction are welcomed. Thank you again.
________________________________________
Source: excerpted from Finance, Phoenix TV